TAMZInUnexpectedPlaces
Berets are timeless and classic accessories that have been around since the 19th century. 
They have been worn by many people, including artists, military personnel, and fashion icons. These stylish hats are still popular today, and customers looking to show off their unique and creative side can now join our exciting challenge, just in time for Fool's Day.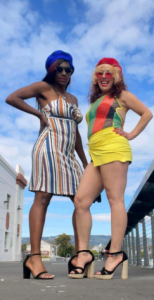 Upload a funny photo wearing your TAMZ beret in silly, unexpected places like a swimming pool, on top of a mountain, or even on your pets and we'll give you the spotlight on the TAMZ official Instagram account.
The challenge is very simple and anyone can attend. All you need to do is:
Wear your TAMZ beret in unusual locations, capturing the moment and posting it online. 

Use the hashtag #TAMZInunExpectedPlaces on various social platforms like Instagram and Twitter.

We'll post your fun picture on our official social media platforms and make you famous in our community.
The idea isn't just about wearing a beret but wearing it in an imaginative, comedic, and creative way. The only requirement to participate in this quirky trend is your beret, a camera, and a willingness to get a little silly!
If you're looking for inspiration, try wearing your beret in unusual locations like in the middle of the desert, or on top of a skyscraper. Experiment and have fun with it. 
Moreover, uploading these pictures on social media platforms allows others to join in on the fun, and it serves as a reminder to everyone that it's okay to let loose and have fun once in a while. Remember, the crazier the place, the better – so go wild and get those creative juices flowing for April Fools Day!