Fashion Forecast:
Fashion is an ever-evolving industry, with new trends emerging every year. Based on current trends and predictions for the future, here are some of the clothing styles that are expected to be popular in 2023.
Sustainable and Eco-Friendly Clothing
As people grow more aware of the environmental impact of fast fashion, sustainable and eco-friendly apparel is becoming more trendy. In 2023, we may expect to see more consumers choosing clothing created from organic and recycled fabrics, as well as pieces meant to last for years rather than just one season.
Bold Prints and Colors
While minimalism has been popular in recent years, 2023 is predicted to see the rebirth of vibrant designs and colors. Fashion will be all about creating a statement with your attire, from animal designs to bright neon hues.
Oversized Silhouettes
Oversized silhouettes have been on the rise for a few years and aren't going away in 2023. Expect to see oversized blazers, coats, and sweaters, as well as baggy pants and skirts.
Athleisure
Athleisure has been a developing trend for several years and will continue to be so in 2023. Expect to see more sports elements like joggers, sweatshirts, and shoes blended into everyday clothes as more people choose a casual, comfortable lifestyle.
Retro and Vintage Styles
Fashion trends come and go, and retro and vintage styles are predicted to become popular again in 2023. We can anticipate seeing a lot of throwback pieces in the next year, ranging from '70s-inspired flared jeans to '90s-style slip dresses.
Gender-Neutral Clothing
Gender-neutral clothing is becoming increasingly popular as society accepts gender flexibility. More androgynous styles that blur the distinctions between typically masculine and feminine apparel are expected in 2023.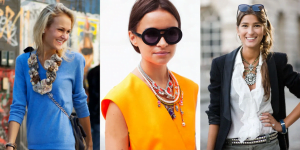 Statement Accessories
Accessories are a terrific way to dress up any look, and they'll be more vital than ever in 2023. Bold statement pieces such as solid jewelry, huge sunglasses, and statement bags are expected.
Overall, fashion in 2023 is shaping up to be an interesting year, with plenty of new and unique trends to look forward to. Whether you prefer ecological clothing or bold prints, the fashion trends for the next year have something for everyone.